PDF version of the October-December Update
Oct 8 – PDRR Camp Berry Work Day
Oct 14-16 – George Washington Chapter FCF Fall Trace
Nov 5 – PDRR Camp Berry Work Day
Nov 19 – District Leaders Conference – Training at PDRR Camp Berry
Dec 10 – -Work Day at PDRR Camp Berry
Dec 14 – 12' x 28' Shed arrives
Dec 17 – 4 plastic/metal picnic tables are delivered, and box trailer moved to a more permanent location
Dec 21 – Decorative entrance wall marked out.
A very special thanks to everyone who came to the workdays, the FCF Fall Trace, and to the District Leaders Conference for training
Oct 8 – PDRR Camp Berry Work Day
Sheet metal put on gable ends of shower house, windows installed with plastic wood holding them in, final layers of retaining wall put in place, underlayment placed under water slide to eliminate future weed-wacking, upper barn cleaned up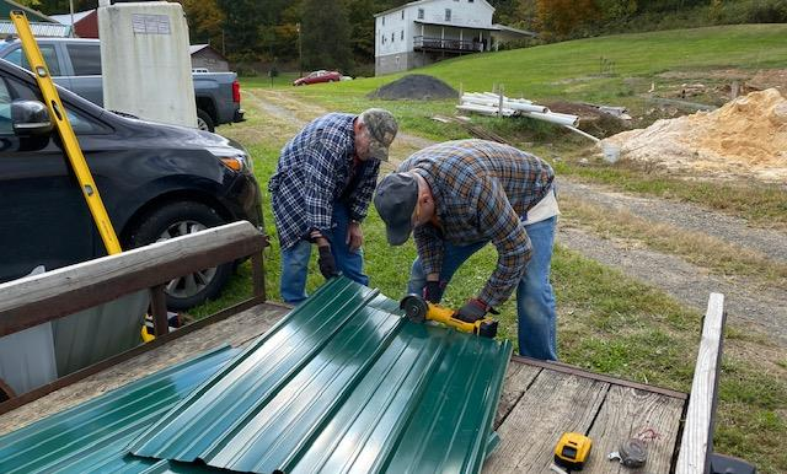 Oct 14-16 – George Washington Chapter FCF Fall Trace
Love blanket distribution, Auction (raised over $2,000 for missions), worship and devotions, 7 new Frontiersmen and 5 new Wilderness members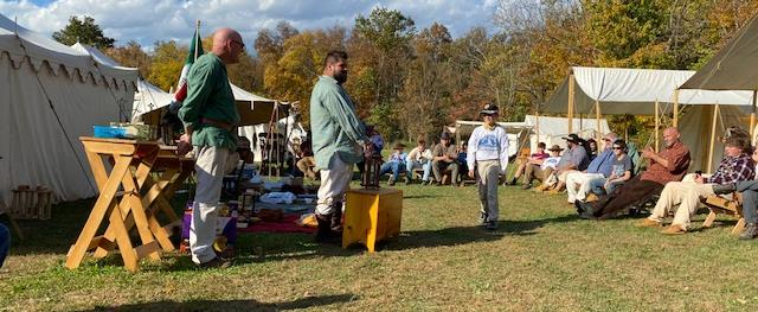 November Work Day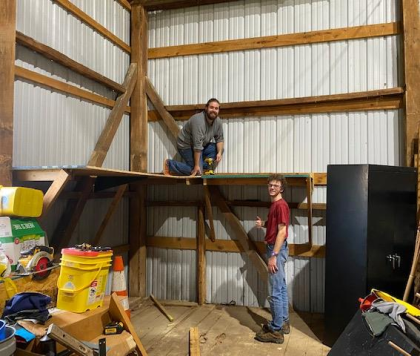 November 10
We picked up 120 fiberglass sheets to be used as wall board for the ceiling and some non-block wall areas of the shower house – -$1,800 – but that is about ¼ of the retail cost and is the exact material we need. Took 2 loads – – 25-30#s per sheet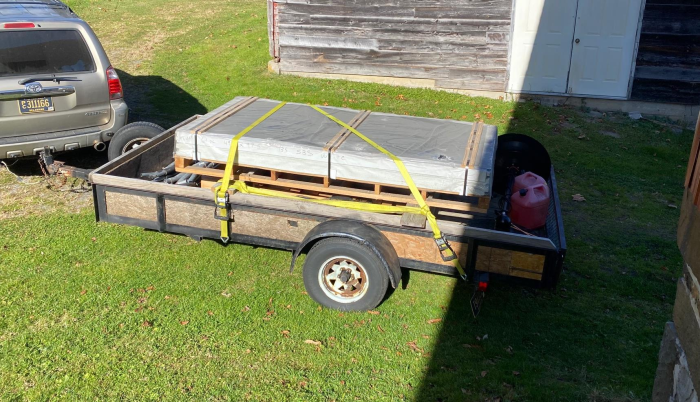 Nov 19 – District Leaders Conference
Pastor Dwan Newsome, Chaplain for PennDel District Royal Rangers giving our morning devotion and Chad Hetrich going over instructions for the RV sites. This DLC went over procedures for activities at camp, opening and closing camp, equipment such as mowers – -with a goal toward safety, and excellence in activities for the boys. There were 25 men and older boys at the DLC.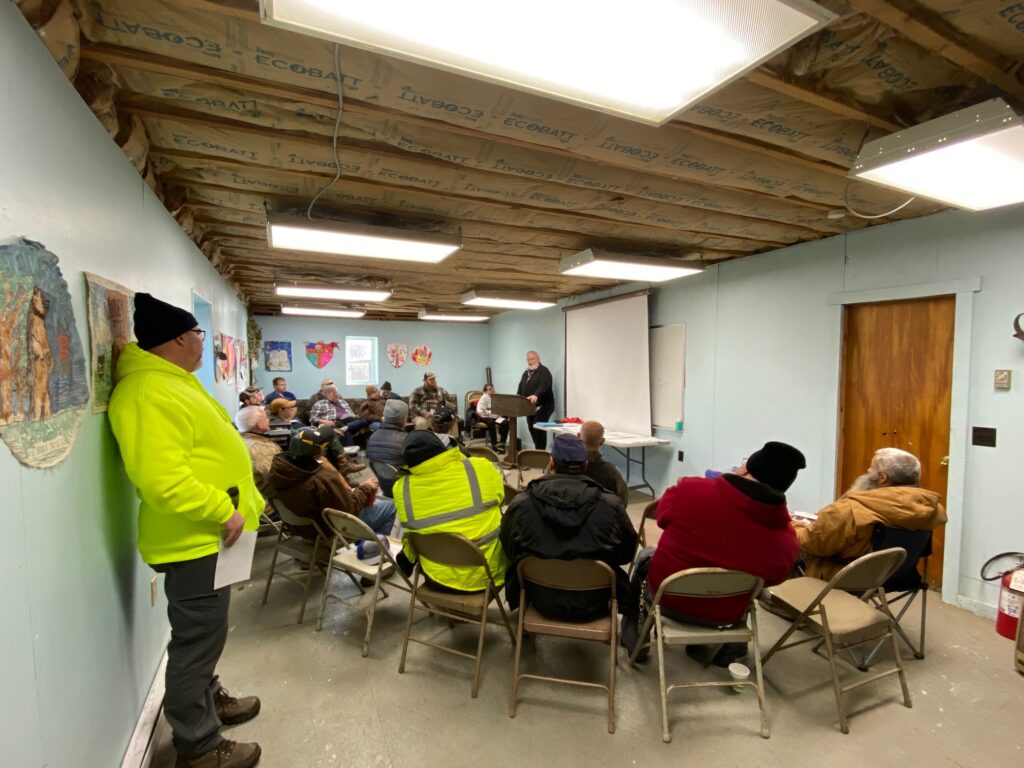 We had Friday evening dinner, Saturday morning breakfast and break and Lunch in the farmhouse dining room. Mike Ardeno was chef extra ordinaire. The weather was very cold outside so this was a nice warm refuge.
In addition, we covered the waterslide, access to the creek, air cannons, zip line, open/closing camp, winterizing, equipment at camp, shooting sports and certification, and a number of other topics, with some good input. It was a very worthwhile day of training.
Information on each activity is available on the PDRR Teams site.
December 2
Steve and Sally deliver plastic pallets, treated lumber for stone pad for shed, select location, deliver 35 event chairs to the farmhouse, put 2 new batteries in the tractor, and put in rack for plastic pallets for paint ball.

December Work Day
Andy Baker brought up a skid loader and excavator, graded around the retaining wall and prepared the site for the stone pad. George Pentz and Doug Revell got the treated wood ready, and Fred Moyer and JJ Wickard cut rebar to secure the wood.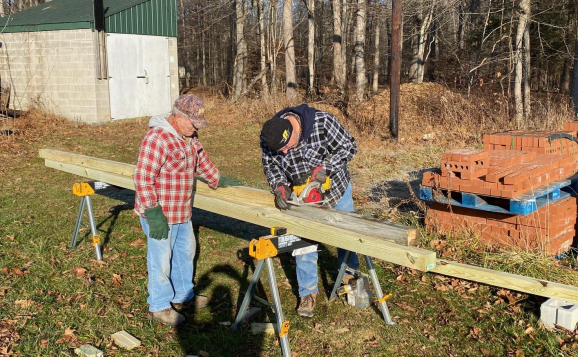 JJ's special project was to put a burn barrel under the sand pile so it could be unfrozen to continue inside block walls in January. Doug and Steve also fixed a hole in the lower pump house to keep birds and insects out. Not too far from the pump house, Steve added angle supports to the platform holding plastic pallets for use during paint ball.
December 14 – Shed Delivered
This shed will house all the gasoline equipment and fuel, getting it out of the big barn which will slowly become an activity center – climbing wall is already there
12 x 28' Shed is delivered. One person with the right equipment.
December 17
We got 4 plastic/metal picnic tables (not perfect but very usable) – free.
Also, cleared the brush and put tarp and stone down to make a more permanent place for the District's box trailer. Can be used by sections for RR needs. Reserved for PowWow to pick up supplies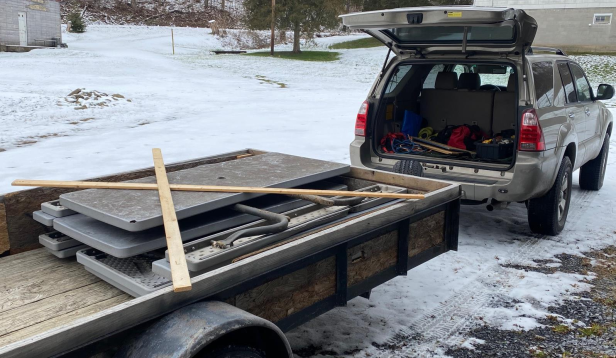 December 21 brick entrance
Ron Adlesic and Steve Steffel mark out the brick entrance. Greg Scott drew it up – see drawings.
Next step – dig the footers and get concrete, weather permitting. PDRR Logo and Ranger Logo on walls facing road (red arrows).